PRIVATE OFFICE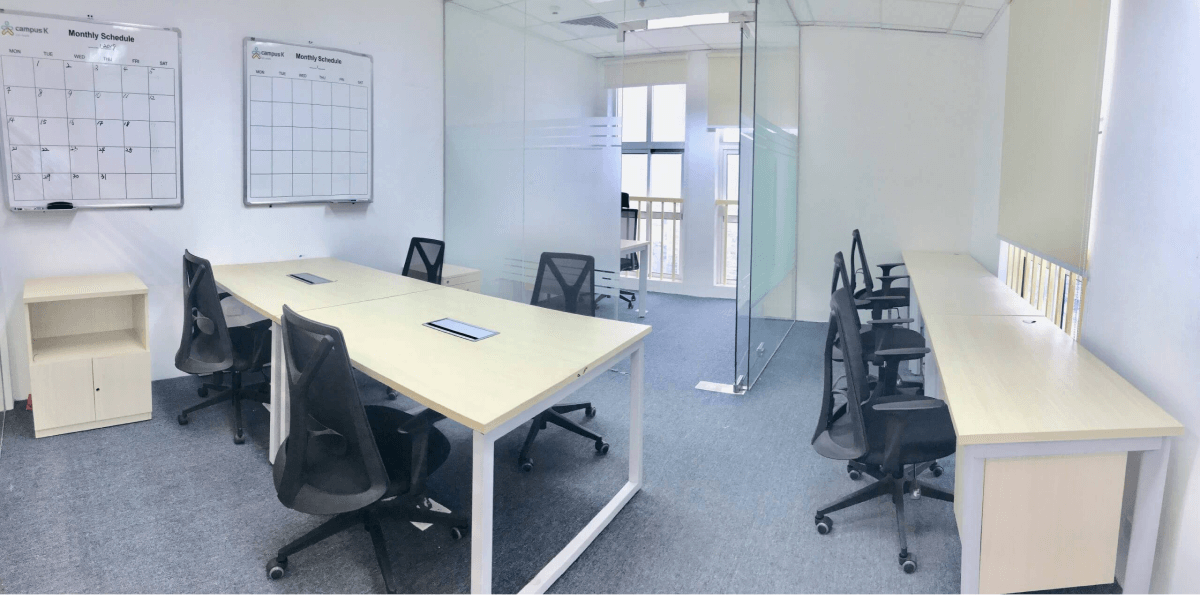 PRIVATE OFFICE ON CAMPUS
Fully furnished private office: large desk, document cabinet, lights, fire alarm. The distance between the user and the room space is designed to be the most ideal, optimizing the space while still being spacious and comfortable.
The private office at Campus K is arranged in a separate area, away from common areas such as: lobby, living room, dining room to ensure maximum tranquility. Depending on the room level, we arrange an office with windows, open views for natural light. Office facilities include 12 modern, free utilities to help customers meet the needs of working, receiving guests, meeting online, organizing events, as well as resting and relaxing.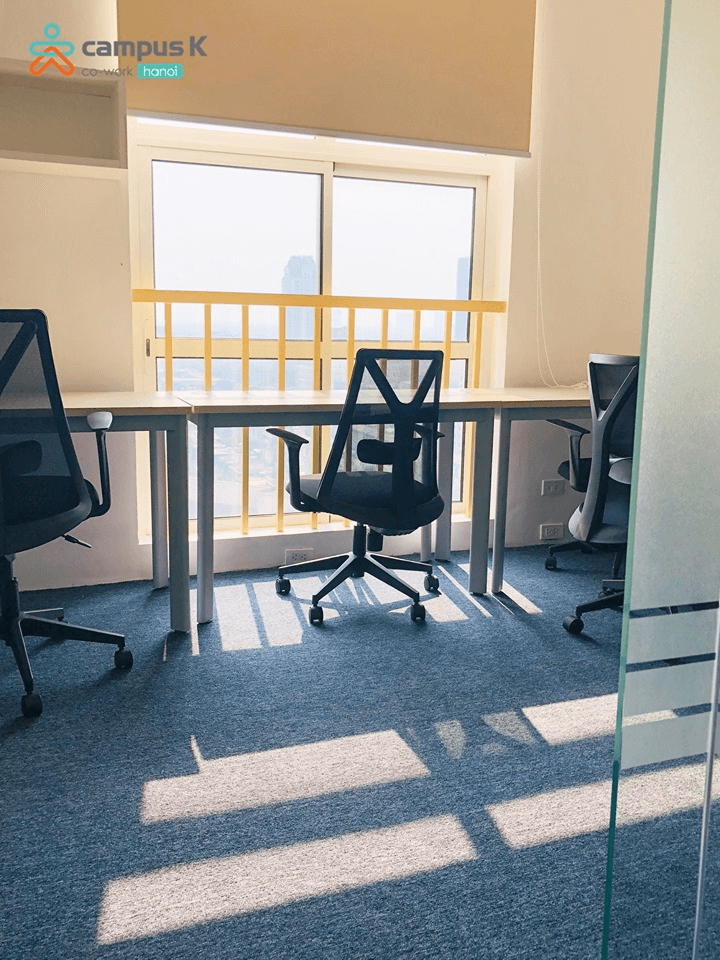 REASONS TO USE OUR SERVICE
4 reasons to use the service at CAMPUS KY
SAVING OPERATION COST
Campus K's all-inclusive office is free of all electricity, water, internet costs, and many other office utilities to help your business save operating costs.
SAVE INVESTMENT COSTS AND OFFICE SETUP
CK's full-service office is fully furnished according to Korean standards: tables, chairs, document cabinets, lockers, ... and modern office equipment: printers, photocopiers, scanners , , Landline...
SAVE HUMAN RESOURCES COST
You will not have to spend money to have a professional receptionist, 24/7 security, housekeeping staff always keep the office clean and beautiful.
SAVING COSTS IN CASH
You only need to pay the rental fee for your office, but you can use all other facilities such as modern meeting room, luxury living room, lunch room, pantry, kitchen & mini bar...
SERVICE UTILITIES
15 Free facilities of Campus K when renting a package office
Living Room - CEO Lounge
Luxurious reception room, Korean standard furniture helps elevate your business in the eyes of partners and customers.
Brainstorming room
A room designed specifically for brainstorming, from the size of the space to the inspirational decor, is carefully researched to be ideal.
Pantry
Campus K's extremely chill relaxing area helps you relieve stress and work extremely effectively.
Modern office equipment
Campus K is fully equipped with printers, photocopies, scanners, desk phones, stationery... All available, you just need to come and work with peace of mind.
Free electricity, water, internet
Using Campus K's own office service, you won't have to worry about monthly electricity, water, and internet bills.
Registered business address
Using Campus K's own office service, you will have a head office address to register business activities. Moreover, Campus K can fully support you to apply for a business license through its services.
Free drinks
Drinks: Campus K's Tea, Coffee, Detox Drinks are free with unlimited quantity.
Professional Receptionist
You will have a professional receptionist to support you to receive guests attentively without the cost of hiring personnel.
Meeting
Modern meeting rooms are fully equipped with necessary equipment to make each meeting more effective.
Naping Room
Campus K's ultra-luxury rest room is fully equipped with bean bags, blankets, pillows, customized temperature just enough to ensure the most comfortable nap for an effective afternoon.
Kitchen & Mini Bar
A shared kitchen area and a mini bar with modern and comfortable equipment will give you delicious cups of tea, coffee, and hot lunches in the Korean lunch area of ​​Campus K.
Receive mail - parcels
Campus K will pick up letters and parcels for you at the front desk. With strict security and management principles, you will no longer have to worry about losing correspondence or revealing business information.
Security 24/7
Campus K is located in a Grade A office building with security guaranteed 24/7 along with the security principles of Campus K, you will no longer have to worry about losing your property when coming to the company to work.
Support staff
At Campus K you will always receive enthusiastic support from our staff.
Daily cleaning service
You will not spend a dime for a professional janitor who always keeps the office clean and beautiful if you use Campus K's own office rental service.
CAMPUS K OFFICE PACKAGE
GRADE OFFICE
From 1,000,000 VND/seat/month
Ready set up table, chair, wardrobe

Use a modern meeting room

Use the luxurious living room

Using high-end office equipment (printing, scanning, photocopying, color printing...)

Kitchen & Mini Bar

Drinks: Unlimited free tea, coffee, detox

Free daily office cleaning

Receptionist

Security 24/7
GRADE B OFFICE
2.000.000 VND/ chỗ ngồi/ tháng
Ready set up table, chair, wardrobe

Use a modern meeting room​

Use the luxurious living room

Using high-end office equipment (printing, scanning, photocopying, color printing...)​

Kitchen & Mini Bar

Drinks: Unlimited free tea, coffee, detox

Free electricity, water, internet

Free daily office cleaning

Receptionist

Security 24/7
GRADE A OFFICE
2.200.000 VND/ chỗ ngồi/ tháng
Grade A quality office with overhead view window

Ready set up table, chair, wardrobe

Use a modern meeting room

Use the luxurious living room​

Using high-end office equipment (printing, scanning, photocopying, color printing...)​

Kitchen & Mini Bar​

Drinks: Unlimited free tea, coffee, detox​

Free electricity, water, internet​

Free daily office cleaning​

Receptionist​

Security 24/7​